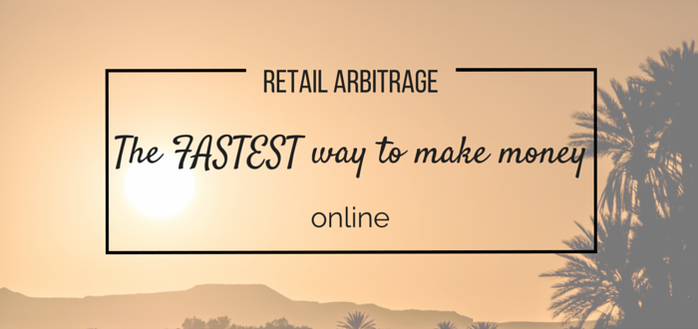 So, rather than just dream about creating a business, let's get you started.
You know that feeling you get when you get too excited by all the cool offers at the supermarket, and you buy WAY too much crap that you shouldn't be eating?
Also you realise how much you've spent on groceries and it's completely over your intended spend?
…well I have a remedy for you.
What if you discovered that there's profit waiting for you on the shelves of almost every supermarket, high street store, and retailer out there?
In today's episode we discuss how to tap into this undiscovered goldmine, and why it's the perfect introduction to selling on Amazon.
Retail Arbitrage, or "RA" will become your new obsession - if you love to shop, and wish you could EARN money while shopping. 
Maybe next time you come back from a "retail therapy" session you'll come back with more money!
Make sure you grab my "Fast Start Guide" to making profits with Amazon. It'll teach you how to become a RA Jedi master:

….This will teach you how to get set up on Amazon, research your first profitable items to sell, analyse them so you don't waste any money, then send the suff into their warehouse to watch it sell.
what's covered in this episode:
What is Retail Arbitrage?

The best product I ever sold on Amazon

Common myths about retail arbitrage

How to ensure you buy products that will sell

How this strategy will fit into your long term plan

Basics of best sellers rank
Also I mentioned that Steve Goudy chap who's crushing it with Retail Abitrage...
Well here's his sales as of June 19th (95% from RA):

And here's a Facebook post he did complete with a video describing an RA day recently: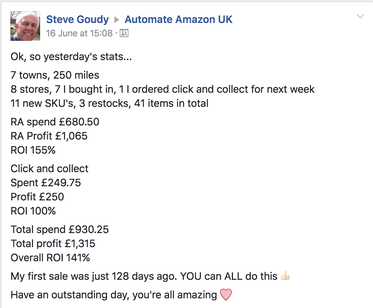 ...Subscribe, and it would be SUPER cool if you could leave a review :)