We're Hiring - Executive Assistant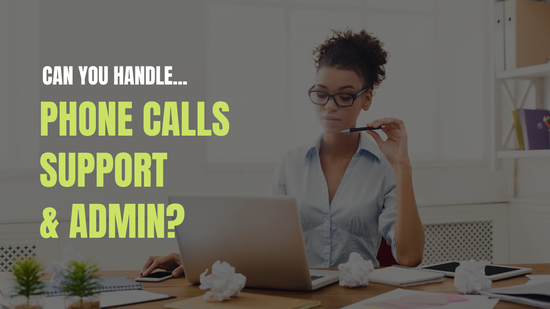 Here at Ecommerce Freedom, we're looking for ways to offer more coaching to the world, so we can get in closer with our customers and help them further.

Do you LOVE building relationships, providing value and helping people?
Are you comfortable handling phone calls to qualify leads?

Are you detail oriented and great at admin work, and can handle a variety of tasks thrown at you (e.g. booking flights, sorting out an event, groceries, finding an apartment etc)?

An executive assistant is an assistant on steroids. You'll be the FACE of the business. handling incoming inquiries and directing people to the right place. You'll be like a secretary sitting at a virtual front desk, holding the entire business together. You're very efficient, very detail oriented and you're obsessed with keeping on top of the main operations that keep the business running smoothly.

Would This 'Executive Assistant' position be perfect for you?
Have a quick read of the objectives below, and if you feel like you could dominate this role, then you'll find instructions to apply at the bottom of the page!
The position will be 100% remote forever - so you can work from home, or from wherever you like, as long as the work is delivered on time and excellent quality. This position will REMAIN remote even when everyone goes back to their offices and the pandemic is over.
We'll discuss the pay model and hours etc at the interview stage.
Priorities:
1. Qualifying leads via phone/email. You'll have up to 20 short calls in a day on busy days. (10 minutes each). This could go up or down depending on the month.
2. Customer service. Around 3-5 hours of handling incoming emails each week.
3. Admin (onboarding/webinar setup /content uploads/random tasks).
KPI's:
1. Leads qualified correctly for my coaching program
2. Number of sales from you messages/calls
3. Quality of customer service (score from 1-10)
4. Quality of admin (score from 1-10)
Competencies:
1. Great at handling phone calls. Calm and polite, but also no-nonsense. Good at getting to the point and cutting off wafflers without being rude.
2. Extremely efficient with time and very organised. You'll be juggling different responsibilities throughout the day. Each set of tasks needs to be competed and recorded on time.
3. You're autonomous. You google things before asking. You use initiative. Your job is to SAVE people time, so you figure things out on your own, and only ask questions when you're sure it's necessary. However you do understand when it's important to check before taking certain actions.
4. Comfortable with sales/sales process. You'll be 'setting up the sale' and qualifying leads. It's important you underhand the overall sales process and your role within it. You won't be 'selling' but you'll be the person that figures out what each customer needs help with so the  sales department can help them,
5. Very detail oriented. Many of the admin tasks require pinpoint accuracy. Core parts of the business will rely on your admin work. E g. setting up a webinar, scheduling emails, booking a coaching call.
6. Ability to surprise + delight customers. Come up with creative ways to make customer happy, and still keep priorities in check. Example: A customer expected a certain bonus with their purchase, but didn't get it (because it wasn't included in the offer) what do you do?
7. You'll be an assistant, but not a doormat. You have backbone. I want someone who sees me as better than I am …so they can pull me up and move the company forward. Very supportive, but also has ideas and can make suggestions.
Experience:
1. Experience handling phone calls.
2. Assistant / secretary experience. You know how to make someone's life easier, and take tasks off their plate.
3. Experience handling customers.
4. Very comfortable with technology. No coding required but you need to learn new softwares very quickly. Things like Clickfunnels, Gotowebinar, Active Campaign, Zapier etc.
 If you read through the list of questions and begin screaming 'this is SO me!!'...
Then I want to connect with you.
Shoot a message with your Linkedin profile URL in the subject line to this email:
support@ecommercefreedom.com
I'll get back to you shortly with a quick survey
Speak soon!
- Ollie.