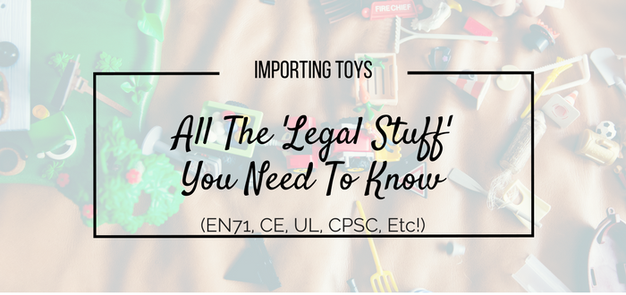 Have you ever thought about importing toys? If you have, did you know that there are certain regulations your product needs to pass in order for you to sell your toy? 
I'M GOING TO BREAK DOWN EACH REGULATION AND CERTIFICATE FOR YOU.
In today's episode, I share with you all the regulations you need to know in order to import toys and sell them for your Amazon Business. The regulations shared in this episode cover the U.K., Canada, and the United States. With Christmas right around the corner, there is never a more perfect time to start importing toys!
Listen to the rest of the episodes and leave a review: HERE
Today, I want to focus on everything legal involving importing toys for your Amazon business.
With Christmas right around the corner, you might think about importing toys from China to add to your business.
A quite a few of my clients are selling toys and it has been something that's new to me.
I've sold domino's myself but nothing for kids so this made me learn the process to help my clients abide by the right process.
Before you go any further, remember that I am not a lawyer and I'm not certified to give you legal advice, I'm just speaking from my experience. If you're in doubt about any of the regulations mentioned, then you should hire a legal professional yourself. It's worth paying the money to a lawyer instead of the headache of paying thousands in a lawsuit.
If you want to sell toys in the U.K., Canada, or the United States, there will be different regulations for each country.  
The toys we're talking about in this episode will be marketed towards kids under the age of 14. Kids will be playing with toys all the time. These toys have to be safe.
EN71
In the U.K. to sell toys, you need to abide by the EN71 toy directive.  The EN71 regulation is a certificate you can get that proves your toy has been tested.
A safety assessment of your toy will be carried out in a lab or somewhere similar. It can be done by a third party company.
Your manufacturer will usually sort this out for you. You should always ask your manufacturer for their En71 certificate.
EN62115
There's also the EN62115 which is used for electronic toys. If your toy has an on button or uses batteries, you need this certificate to prove that it's safe.
CE Mark
You also need a CE mark. The CE mark is kinda the same as the EN71. The CE mark proves that the toy is being tested for safety. It needs to be on the back of the toy or on the packaging of your toy.
If your toy doesn't have the CE mark, your toy usually won't go through customs. If you want to find out more about the CE mark, you can go to cemarking.com.  
Your supplier should have already done the tests before completing the product.
Those are the regulations for the U.K. and the E.U.
Consumer Product Safety Commission
In the United States, your toy has to meet the standards regulated by the Consumer Product Safety Commission.
ASTM F963
The regulation you want to pay attention to in the United States is ASTM F963. This is for use of your toy by a kid under the age of 12. You need this certificate to be eligible to sell your toy.
UL Mark
Just like the CE marking in the U.K., you need a UL marking in the U.S. The UL marking isn't a legal requirement but it is highly advisable that your product has it. It proves to the consumer that your product is a high quality product.
Hazardous Product Act
In Canada, your toy has to abide by the Hazardous Product Act. You should be looking in the toy section.
ISO IEC 17025
Your product needs to abide by the regulation, ISO IEC 17025.
If you want to find out more about the rules in Canada, you'll want to go to Canada.ca and type "toy safety requirements." You'll find a breakdown of all the things you need for your toy to meet the legal requirements.
This might not have been the most exciting episode, but you need to be aware of this if you start importing toys.
Don't just try to import any toy without talking to your supplier to make sure the product meets the regulations in your specific country.
Ask your supplier if they can supply the required certificates and required markings.
If there's any uncertainty about your product meeting regulations, don't import it, it's not worth the risk. You might not even be able to get your product through customs if it's deemed unsafe.
Contact a legal adviser if you're unsure about anything. They'll be able to answer all the questions you have.
Always make sure you keep your certificates in case something ever happened to go wrong with your product.
If you want to ensure yourself, you can get product liability insurance. If anything happens to your customer using your product, you're covered.
At the end of the day, I don't want you to worry about this stuff, it's primarily precautions, I just want you to be aware of it.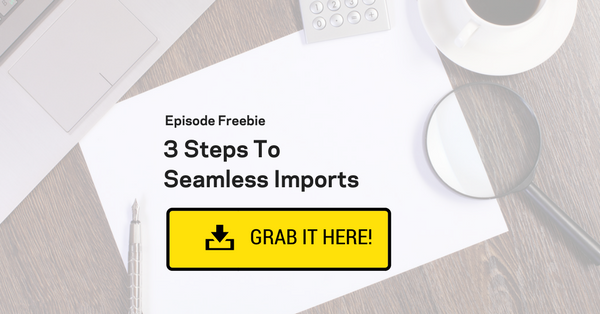 Links mentioned in this episode: 

Listen to the rest of the episodes and leave a review: HERE