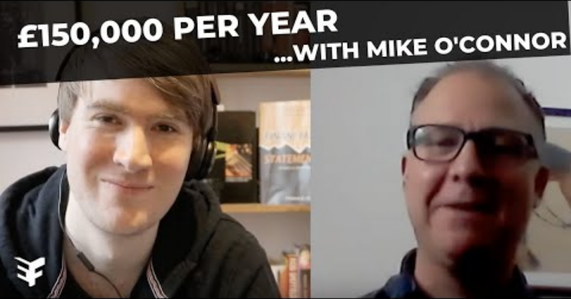 Ollie:
Hey, how's it going? It's Ollie here. So, very warm welcome to this interview with Mike O'Connor. Mike started working with me, I think, it was back two years ago now, I believe, when we worked together - started working together. You may have seen our interview that we did last year, but Mike's made even more progress.
So what I wanted to do was have a catch up and really dive a bit deeper into Mike's story, so you can learn from his journey 'cause it's really, really inspirational.
So, Mike, it's a pleasure to have you here with me today. How are you doing today, man?
Mike:
Ah, cool. Thanks. Yes, it's gotten really well.
Ollie:
Awesome. Yes. Love it. So I think great place to start, Mike, would be with your background, and I'd love to dive a little bit deep into what you were doing before we started to work together, before the Amazon business started to take off.
And I'd love for you to just paint a picture of how things were before we met and before we started working together.
Mike:
Yeah, sure. So it's quite.. just isn't so much. Where I was at the time, I was working in the West Midlands, just been divorced for about a year. I was in a bed sit, I was working for public health company, and I knew it was really quite dead end then. It was like, I wanted to pull myself out of where I was and I came across this Amazon opportunity and I thought, I could combine it with my project management skills and try and look at it. So that's what I did.
So I did what a lot of people do. I scoured around and I found a course. And this particular course, the way it worked was, you got a folder with DVDs in it and you watched the DVDs, and that was kind of it. They kind of did a question session, but unless you knew what you're doing, to ask the question, you kind of sort of flounder in the dark a bit.
So it was quite dry course. But from that, I got brave. And I know a lot of people think, oh, that first contact's really hard. And I'm like a number of people. I actually wrote a script. So when I picked up that phone, I was almost reading verbatim from the script saying, I'd like to order 200, is that okay?
They kind of knew where I was coming from and I ordered a product that I put into Amazon.com and it was great. I worked with a graphic designer off Upwork and it was really nice because you kind of then got the opportunity to put some of your personality into a product and that particular product, it did okay.
But what happened was, the pay-per-click was getting more and more expensive as the market is getting more and more complicated. And also I just didn't have that depth of knowledge. I didn't have anyone to ask or bounce back off.
So I kind of pulled out of that and got a little despondent. But I thought, you know, there's something in this. And then another opportunity came up and in fact it's one that Ollie's used as an example when you're trying to start again. And that was retail arbitrage.
And that was different because I decided to do that in the UK. I mean, I had more control. I could decide what went in, when it went in, and with a little bit of software it became possible. And that Christmas, very weird. Running into a shop, buying three or something, going out of the shop, coming back in again, buying another three.
But yes I did really well. I think I made probably six thousand over that quarter. So that then gave me a budget. And then it was like, I really want to go back to this private label 'cause that's what I wanted to do.
I want to be my own business. I want to be something I'm proud of and not just  another cove in the world. And that's how I came across Ollie, his first presentation was about retail arbitrage. So, oh, I get this, I know where he's going with this. And they talked about a bit about private label and talked about mentorship. And now that was that.
When I looked back, that's what was missing. I didn't have that. I had an okay idea, but I didn't have a clear idea. Do you have an okay idea? And the manual doesn't tell you if you're going off track from that okay idea. But if you're talking to someone and they go, well, what are you thinking? Why are you doing this? And they go, have you thought about this? So that was a really good starting point. So yeah, that's kind of how I started.
Ollie:
Love it. So you started off in America, you started off with, was it 200 you said in the first order you placed, and this was following like a video or like a DVD home study course package thing. So you had all the stuff, all the information, but you didn't have someone to speak with if anything went wrong, things like that.
And it just started, so it started off well, and it started to dwindle down. Is that what happened? You know, you sent in a few, you were selling, but it wasn't profitable.
Mike:
Yeah. So what happened was, it was a time when you could "pay for reviews." They then got rid of all that, more people came in the market, pay-per-click just got too expensive, and so it just wasn't feasible. So, learned loads from it, but it wasn't right for me. And I knew it was there, I just needed some more help.
Ollie:
Got you. So then you went to retail arbitrage, went around the shops in the UK, selling on Amazon UK, buying cheap products from the shelves, and flipping them, and selling them for more. And then you got motivated to try private labels in the UK and then you found me.
And so, we started working together. Right. And I can't remember which.. was it, 2017 that we started?
Mike:
Yes, it would have been thousand 2017 'cause I had a look back at my retail arbitrage and that was 2016 so yeah, it was 2017 we started.
Ollie:
I remember. So, wow, that's three years, almost. Two and a half years. Wow. It's flown by, man. It's just unbelievable.
So let's fast forward to today then. So you started working with me. I remember we launched a couple of test products and you had a few things in the pipeline. And fast forward to today, obviously things are going well. So yeah, paint us a picture of how things are now, once we started working together, and everything that's happened since.
Mike:
So where I am now is, I'm mainly based in the UK, but I'm about to go back to Amazon.com because I know enough now, I know that particular product I have in the UK, I know there's a niche in the USA where it's not going to be over competitive and yes, it's amazing. It's like if you said to me right at the beginning, right, Mike, you're going to do a test product with 5,000 pounds, I would've coughed very loudly.
When you first started, you're looking at 500 pounds or 500 US dollars. But when you get in to this part of business, I'm now six-figure seller, when you're trying to expand what you're working on, your budgets and your expectations go higher. And so, yeah.
Ollie:
so there's a big transformation. So now you're placing orders 5,000 pounds and you know, it's not like the end of the world. You feel like it's a safe investment, you know that you're going to get money back on that investment and you know, you feel confident enough to do that.
I really want to get clear on your numbers. All right, so you mentioned there just casually that you're a six figure seller, which is incredible. So what does that mean in terms of revenue then?
Mike:
So my turnover, my goal actually, it's very clear. My goal for this year, so I run April to April, I'm a limited company. I have an accountant that works for me. My goal was 150,000. I think I'm going to be at about 147,000 so I'm not complaining. We're pretty close there.
Ollie:
That's incredible. So around 150,000 pounds in annual turnover. And how many products are you selling at the moment?
Mike:
I'm going to get back to three core products, but I probably have six products, which I want to elaborate a little bit more on. So, like people who first started this, my first product was a great product, it sold well, and then things changed.
My next two products weren't good. And then my fourth and fifth were better. And it was really about.. when you're starting early, when you have that first product just doesn't do what you expected it to do, you get really down in the mouth and downhearted about it.
But all I want to say is without failure, you can't learn from it. So I imported a product. It was good price margin. What I didn't take into account, it actually turned out to be more fragile than I expected. So I ended up with a high percentage of returns.
So my lesson from that was, as part of my inspection, I now do drop tests on any new product. So any failure you get, you kind of come up with your new rules - I must check for this, and I must check for that. So, yeah. So that's kind of what you get when you get to this level.
I guess the best way I could put it, I now have a baseline of three products which are generating me money and from that I can then expand my risk so I can go for either another safe product or I can go with one I think it's worth.. I think this market is going to grow, so I can go for this product 'cause I have a baseline product already generating me money.
Ollie:
That's amazing. And it's pretty outstanding that you only have three core products and that's bringing in the majority of your revenue. That's incredible. So what would you say is your average profit per product then for those three core products?
Mike:
Oh, so, they do vary. So, I've got a product I sell for 15 pounds and I make a five pound profit and I am VAT registered. The next one sells for about 14 pounds and I make about three pound fifty profit. But that's because I want to do.. I've stocked on that product and I want to reduce my stock levels 'cause then it frees up capital for another product. My third one sells for about 20 pounds and I make about five pounds.
Ollie:
Wow. So aside from the VAT, you're looking at maybe 20, 30% profits somewhere around that. It's pretty in line with what we aim for. So it seems like you're doing things really well and really by the book, which is so cool.
So it's really interesting, a few of the things that you mentioned which are just so key. Like, I love your attitude. You know, you launched one product and most people just want to launch one product. They want it to go perfectly. And they expect everything to go perfectly, and if it doesn't, then sometimes they just give up.
But I mean you didn't, you stayed in the game and you've learned the lessons from that first product and almost built up a bank of knowledge and experience you've brought with you to your next products as you continue to launch them.
And now, you know, because you've got all that, you've got a much higher chance of products succeeding, which is what we're aiming for. That's all you want. You want to become like a product launching machine where the chance of your product doing well is really high. So the money you put into stock, you get a return on. So that's incredible.
So you've done 150K, three core products, and a couple of other products. How many dead products have you launched? 'Cause this is something I'm talking about quite a lot recently with people. It's that, you know, sellers think that every single product they launch has to work. But the fact is, some products might not work.
So how many dead products have you launched? And then they just haven't really done what you want.
Mike:
One, two, three, four five.. I'd say seven or eight.
Ollie:
Wow. Seven or eight. And that's over two and a half years. It's not all in one day right? Yeah. So have they been big imports? Have they been small test batches?
Mike:
So, this is what's great. So, one lot was off eBay 'cause it was.. I wanted to test the market. So that was cheap. But so because I'm UK-based, I did my own prepping for it, to the private label it. It didn't work out because the other players in the market, until you try it, were dominating it.
Another one, which is one I touched on earlier, was  a paint system which is heavy, but it's sea freight, you get reasonable rates. It was wrapped in polystyrene and cardboard, it came across by sea very well, but unfortunately, Amazon delivery guys are not so careful. So unfortunately, I had a high return rate, but the profit margin was there.
So what I learned from that was I personally now have an inspection service in China and as part of the inspection services, I get them to drop it.
Ollie:
That's brilliant. Yeah. Inspecting products, once you get things moving, once you're testing lots of new products, inspection service can pay for itself basically. That's a great idea, man.
So the point is you've come from maybe a slower start than you wanted, with a product in the US not working too well, to now things really being moving forward quite fast. And I just want to explore a little bit about how your life is different now that the business is moving, that you've got 150K coming in every year and you're now a successful seller.
So how is your life now, how has things changed fundamentally since you were living in a bedsit and since you felt like you're at a dead end?
Mike:
Massively. I mean, it's massive difference. So I'm not quite at the stage that Amazon's my full time job. I still have another part time job. But the emphasis is, Amazon's my primary job. And the other job is in project management.
Well, I know at some stage in the next one to two years I will be full time Amazon. So it's given me confidence. It's given me freedom, you know, to think I'm working part time, it was a real great step forward and it's tangible. My other job is very report-based. Check out this report and analyze this.
Whereas with Amazon it's, I'll find a product, I'll personalize that product. You know, the boot it lines come from me, I've put my little spin on it, talk about like, customer services.. and you know, you're gonna to talk to your colleagues or  your friends go, oh, you do what as well? And you know, I like the conversation.
Ollie:
Yeah. That's the thing. It's fun. I think that's the best thing about the Amazon business, it's actually fun. Like,  finding products, deciding how to just make yours a little bit better than the others. It feels like you're in like a fun competition, you know, squeezing out as much profit margin as you can, getting the best price from suppliers, getting things to sell.
I don't know if you find the same thing as me, but I'm addicted to refreshing my sales to see where new sales would come through. I mean, are you the same?
Mike:
Oh yes.
Ollie:
It's still a rush, right? I mean, when you see the sales come through,
Mike:
That's it. If you open my phone, it'll be on internet Explorer page and it will be on the Amazon app. That can tell you where we are today. I come from an analytical background so I love looking at PPC. I start, you know, looking at my keywords, what's doing well, what's not doing well, just tweak that a little bit, and I now look up my processes now.
You're asking me where I am now. Well, looking at it, so I'm starting to look at standard operating procedures. They may be for myself, but I need to make myself more rigid in how I work. So I'm looking at, okay, at what point should I be restocking into the Amazon process? What are my key KPIs I should be looking at.. So it's a repeatable process and then you can actually just say you've become the purchasing machine, so the other tasks that you do, just become a routine.
Ollie:
Hmm. The more of those processes you have written down and standardized as well, the easier everything becomes, the more organized you can get with that. Yeah. That stuff's incredible. So it's so cool that you're thinking about that. Seriously. It's amazing to hear your journey, Mike. So cool to hear that, you know, things are moving forward.
And yeah, I mean there's a few things I want to pull apart 'cause I think people will find it really interesting. For example, what would be.. let's say, I don't know if you may have already done this, if you were to have like, a standard operating procedure for a test batch and you were thinking of trying a new product in the UK, what would be the steps that you recommend someone does? You know, let's say they want me to try their first test batch on Amazon. What would you recommend they do?
Mike:
Ooh. Ooh.
Ollie:
it's a big question.
Mike:
So, I take different ways of looking at the problem. So for example, I might look at a niche and say, this is possible. And then I will look at the sellers on there. So I'll see if there's a high Chinese contingency, whether it's a German or European contingency on the niche I'm looking at, because if I see more European sellers then I feel that I'm going to be out to compete on a more even ground..
Ollie:
Because the Chinese have got very cheap margins. Right. So you don't want to be battling for price and things like that. Yeah. Okay. So you look at what nationality the sellers are, where they're coming from. What else do you look for?
Mike:
So I'm now looking more towards the branding. So if you're Prime registered, you've got the headline of that at the top of a page. So if that's not being utilized, there's an opportunity to help me launch my product.
Ollie:
That's a golden nugget for people, man. Have a look, it says the headline has been used. So people probably don't know what this is. So when you go and look at a niche on Amazon, sometimes you'll see a big bar across the top with someone's product on it, right? And if that's not there, that means you can grab that big bar on the top of the niche and you could have your product on the banner.
And if you are the one with the advert, then customers will be likely to click on it and buy your thing. So is this how you're getting some of your core products to sell more often?
Mike:
Yeah. So one of my core products, there are a number of other sellers with something very similar. And it's about my branding. So my packaging is very European. It's no colloquialism, but it's wording that people would recognize.
And my headline banner talks about the benefit of that product range. Anyone looking at it in that niche will see my banner, they'll talk about the benefits. They've already seen my image, which has some other products for others, but has packaging on it as well so it's distinct enough.
So anyone that scrolls down, I just saw up at the top, well there they are again, open up, read about the bullets and go, oh it's British values, no quibble guarantee, but worded in such a way any problems, we will be there to help you. I'm very much about that localized.. almost like that shop going around the corner that you trust and you understand what the stain is. That's what my branding's up at.
Ollie:
Hmm. So it's more about just giving that personal touch so people don't feel that they're just buying from a warehouse or buying from someone in China who just doesn't care about the customer that they're buying from yet. Like you say, someone down the road who you might even know the name and they give you good customer service and they care about the products. They care if you've had an issue. And that's how you separate yourself. That's incredible. That's really cool.
And then the more you can think about that stuff, the easier is to make your product stand out in a niche. Awesome. Okay. So you think about the brand, you have a look in the niche to see if there's a headline banner along the top. And when you are testing products in the UK - interesting question: what's the smallest test batch you've ever ordered?
Mike:
Smallest test batch. Ten.
Ollie:
Ten units? Oh really, was that the eBay one?
Mike:
Uh, no, it's different. I'm gonna expand that out by what I mean by ten. It's actually.. it was one of your suggestions. I'm not gonna take credit for this. So I've got this one product that I'm selling and there's a number of other Chinese sellers and same product and it started to merge into the background.
So I went on eBay and found associate product and the easiest thing to do is just to scroll down and let Amazon help you and say what else would this customer buy? And there it was. So I've added that into that product,  and then I did it as a variation because I've already got my support, my original reviews. And it's a way to get some result and this knowledge.
Ollie:
And did it work? Did it sell?
Mike:
Yes, it's now given me, I'd say a 40% increase on that product. So I'm still selling it as a single item, but I also now have it as a bundled item. So the best way I could describe it is, going and see the first item and then have a look at variation,, actually, you know what? I need that as well. And there's an upsale.
Ollie:
That is a genius, genius golden nugget. So guys, if you haven't written that down, I'll be very concerned because this is gold, right? So what Mike's done is he's found a product that sells right and some, and he just picked it from one of my PDFs, which I send out all the time, right?
If you haven't got one of my PDFs with products on it, send me a message. I can get you one. He picked one of those products and he's used that product and he's bundled it with something that would compliment the product and he's selling the original product and the bundle product together on the same listing. So customers think, well, why don't I just buy the complimentary product and give Mike more money?
So that's a genius way just to bump your profit, bump your revenue, and also make your product stand out in the niche as well. 'Cause nobody bundles in the UK. So many sellers just don't do this stuff. And so that's why I always encourage everyone to do it. So Mike, it's amazing to hear that you've, oh, it's amazing to hear you've been using some of the products off the PDFs. I'm glad someone's using them. It's good to hear.
I think we've covered a lot of ground and it's amazing to have a catch-up and to really get some more info on your journey. So do you have anything else that you want to tell people at this stage? Maybe they're thinking about signing to build an Amazon business. They're on the fence whether to do it or not. And do you have anything to say to them?
Mike:
Yes, I think, go for it and start as big or as small as you're most comfortable with. There's many opportunities. You could start with an item on eBay, focusing on understanding the process rather than being overworked on the profit, or you can go larger onto Alibaba and so..
And if everyone could get the first product to be the perfect product, then that's fantastic. If I look at my own products, I'd say my fourth or fifth product I launched is probably my best product because I learned from the first four. So yeah.
Ollie:
So be in it and be in it for the long game. And you know, it's so funny 'cause some of my clients do launch their first product and they're doing 10K a month with that one product. Other clients launched their first product and it goes okay, but something goes wrong because they didn't realize what we had, you know, mishap.
And the key is just to be in it for the long time, not to try and make money in 30 days, but be ready to just keep at it for a while. And the longer you stick with it, the more experience you get as a business owner, as a seller, as an Amazon seller, and the higher chance is that you get continued results.
In fact, before we wrap things up, Mike, I'd love to ask, what impact has this Corona Virus had on your business? Have you had delays? Have you seen it, you know, causing like a massive disruption or you know, just wanted to just, if you could just let us know what stuff you've been seeing from your end.
Mike:
Okay. So if I went back about two months when China was in shutdown, what happened was.. I work with a sourcing agent. And so what happened with them was there was a delay and they went back two weeks later, I got an email.
They explained the situation that they were working from home and there was a number of colleagues working from home. So you'd still be able to go on Alibaba, if you saw a particular product, they would still email back, they couldn't go any further than that.
And then another two weeks later, they said they were back at the factories. And because of the Chinese new year, which is usually shutdown, plus four weeks, I have to say factories are probably up to two months behind.
So don't get overly worried if you're trying to make contact with a supplier and they're slow in getting back or they come back quickly and then they tell you it's forty, fifty days before you can get a sample. It's just a pain with the catch-up.
Sales in the UK - maybe a little bit slower. Um, but yeah. What is positive - 'cause I don't want to talk about positive about a situation. Positiveness of the situation is my other job that turned around and said you can work from home and I know none of the places you can work from home. So that means maybe that's two hours a day less traveling. That's two hours a day, I can look at this, I'm looking at my arms and grind. So I'm looking at this period, very weird period as opportunity to actually grow faster.
Ollie:
Mm. I love that attitude, man. And um, I think that's so true. I think now is the perfect time to really get focused in and start building your business because they are encouraging us to stay indoors more. We're not going to be going to so many big events, there's not going to be so many distractions as long as you don't have the news on 24/7. Right?
So now's the perfect time to, to really get focused. And you know, we're in the perfect business because everyone wants to stay at home and just order things to their door. So obviously Amazon is the best way to do that. So I'm really happy to hear you haven't had too much disruption. Yes, there's a couple of delays. Yes, some suppliers are a little bit behind, but you're still making sales. It's not as if the whole thing's come to a halt, so that's incredible.
All right, Mike. Well, today's been so helpful. Really.. thank you for number one, being such a good example of what people can do selling on Amazon, number two, sharing so many of your secrets today and helping people with all these golden nuggets. And it's been really fun having you. So, yeah, thanks a lot, man.
Mike:
Okay.
Ollie:
Awesome. All right, man. Thanks so much. Take care and yeah, we'll catch up soon.
Mike:
Yeah. Take care.