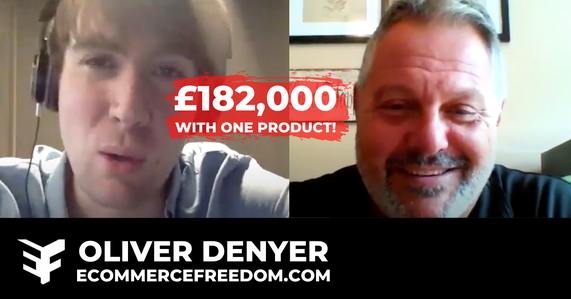 Ollie:
Hey, everyone. Welcome to this interview with Graham. Now, Graham has been following my stuff for a little while. Around about 18 months, I believe, and he has got some unbelievable results selling on Amazon.
So I wanted to have a little chat with him so you guys could maybe pick up a few tips and be able to pick his brain and just understand what happened really along his journey when he got all these results.
So, Graham, great to have you here, man.
Graham:
Thank you.
Ollie:
Awesome. So what was the obstacle, the hesitation that you had before you were thinking about getting moving on Amazon? You know, joining the training and building the business.
Graham:
Really it was just actually doing something just, you know, triggering off the ride, really. I was really scared of losing money or I thought I didn't have enough money to start. And then I watched a couple of your videos about sending a box a week and that type of stuff. So yeah, we'll see, I'll give it a go. So that's what I did.
And within a couple of weeks, the ads started to work. I was feeling, actually, this is all right, I'll do this for a living. But the fear, yeah, the main fear is just getting started. So start. If you don't, you're never gonna know.
Ollie:
Hundred percent. Yeah. When you start to pick up momentum, then all of a sudden that builds your confidence as well and the results build your confidence, and vice versa. And that starts to skyrocket.
Your results are really crazy. So let's talk a little bit about the sales you've generated since you've started.
Graham:
Okay. So it's been about 18 months. I didn't do anything for three or four months. And then I found some light bulbs on clearance in B&Q, 90 pounds off of them. So Amazon, it's like three weeks to get there most of the time, but within three weeks for an off week, sold all of them.
So I made around 800 on profit. I was selling that at 9.99 so there's nothing really on the grand scale of things. Let's give it a try. And even if I got my money back on my worst off, let's try it. And that was it. Just exploded and I'd been running around all over the place, making phone calls, getting them ever since.
Ollie:
That's incredible. So you started off with a win, right? You found a hot product, you bought a few of them. They all sold super quick. And then from then on it was just a mission to just find more and more and more and more. And up to date, what's your total sales since you got started?
Graham:
It's 117. 109 like June. So June this year, 117 in total. But it's a bit more than that actually. 'Cause I don't think that it includes Europe. Is it? I'm not sure.
Ollie:
Possibly not. Yeah, that's just UK. That's 117,000 pounds. So that's probably about $150,000 in America, US dollars. $150,000.
Graham:
If that's the case, another 66,000 euros then.
Ollie:
Wow, okay. So we're looking at almost 200,000 then in total. Really the first year in business, that's an incredible result. So why do you think Amazon worked so well when other things that you've mentioned you tried like affiliate marketing and things before that.. like why do you think Amazon kicked off of work so well when the other things didn't take off?
Graham:
Well, with affiliate marketing and a lot of it, you have to build a website, you have to do all this sort of stuff.. You have to drive people there. So you spend a fortune on advertising, maybe make one or two sales, but Amazon, the platforms there, it's all set up, ready to go.
You've just got to get your products in front of those people, it doesn't matter. I've sold some really weird things as much as the light bulbs, like you never think in a million years are going to sell. They might not be selling as quick as the most popular product.. So yeah, just everything's in place for Amazon, ready to go.
Ollie:
Hundred percent. I think they've got over something like over a hundred million Prime users, people who are paying to be exclusive customers of Amazon and people love using their Prime shipping. And when you send stuff into the warehouse, I mean, customers get free shipping on it and it's just such an easy way to get stuff to move. So yeah, it's such a good point. Amazon have done most of the legwork for us.
Graham:
When I show people, it doesn't make sense, you know, like buy it for five pounds. But I do it and I've done it myself, I want it tomorrow, I'll buy another. [inaudible]
Ollie:
That's it. When you've got convenience, when you've got great customer service, customers will just pay so much more. If you're selling on Amazon, you don't have to be shipping off products in the post office or dealing with refunds or any of that stuff or questions. It's all handled. So yeah, it's really unbelievable opportunity.
So moving on to the training then and the stuff you used to learn how to build a business and find these hot products, what specifically did you find helpful about the training that helps you get this result?
Graham:
Your training. I did shop around a little bit. I can save everyone a lot of time by saying don't. I spent hundreds of hours watching all types of different things. Your training, it was a couple of YouTube videos to start with. Just bullet point it out. There's a step at a time to do it, get sucked off sideways and try all different things.
But just, you've said it, don't try and reinvent the wheel. Do what works. You can tweak it later, but start getting some sales coming in. So that's what I liked about your training. It wasn't flashy and full of Ferraris, it was just bullet point, step by step, do this, do this, do this, do this. The main way is trying to stay focused and it was a good way. You have set it out really well.
Ollie:
Awesome. So you found it pretty easy to follow and yeah, that's the thing I like to focus on, really. The number one thing is to get people results because I know if you can come in and get a sale or two within the first two weeks of the first 30 days, all that's going to do is create more sales for you.
Like you mentioned when you found the hot product, you just wanted to send in as many as possible and that's what gave you all this momentum. So what other benefits would you say that the training had that really helped you get this result?
Graham:
I think the main benefit was the focus. We touched on it just now, about focusing.. and the mindset stuff as well. You do need, well, you don't need a different mindset, once you start doing this and it starts working, your confidence grows anyway. And your mindset training helps you focus.
On a bigger scale, you do change very quickly as well. Your attitude and the way you see things. I mean it takes me three hours to go shopping, it used to take an hour looking for something else to buy. The main thing was the focus, left, right, center.
Ollie:
Hundred percent. Yeah. Focus is so key, and I find some programs, they give them loads and loads and loads of knowledge, but it's almost too much because you end up knowing loads of things but not really taking any action. So it's nice to just have a little bit of knowledge, like the most important thing, act on it and then move forward from there.
Graham:
Yeah, sometimes as well, the minute detail is not important. You don't have to get people get hung up on the silliest details. But yeah, just focus on what you're doing. And follow along with your steps and it'll be fine.
Ollie:
Hundred percent. Hundred percent. So if someone was watching this and they're thinking, I want to get out of the nine-to-five job, or I want to build a business, I want to build an income, and are on the fence. So they think, you know, I dunno if I should jump in into and get started with, or if you know, I should just give it a miss and then maybe wait for something else. What would you have to say to them?
Graham:
Just do it. Just do it. I mean, this is my full time job now, so I've not had proper job for 18 months? The money could come in in these every two weeks as well. So your first shipment kinda snowballs a bit. So your first shipment goes and takes two weeks to come. Then you start getting drips and drops of money.
In my case, I was very lucky with that first one, but then you'd send it, you know, like you said, a box a week or two boxes a week, wherever you can get in, as long as you do one box every week, then all of a sudden you've got a product selling. All of a sudden you've got 10, and then you've got 20 and they're all selling. You'll get paid on all of them every two weeks.
So just take the first step, just take the first step, get it done, and then, you know, that's easy. Easy results. It's a lot easier than people think once they get started and it's very effective.
Ollie:
Love it. Yeah, I've definitely found it addictive in the beginning, especially when things started to take off. Amazon becomes your entire life because it works and it's real. And it's something that I think as long as you're willing to put in the hours and really focus on the stuff that works and absorb the training and take action, it's something almost anyone can use to create an income.
Graham:
Enjoy it. It's just the perfect job. I love it. Absolutely love it.
Ollie:
Awesome. Alright, Graham. Thanks so much for your time. It's been really great hearing your story.
If you're thinking about joining any of the training or getting moving, there should be a link somewhere near this video for you to get moving today. All right. Cheers, Graham. Take care.