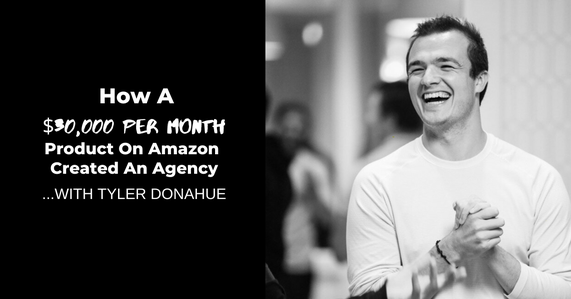 Ollie:
Hey, everyone how's it going? It's Ollie here. Very warm welcome to another episode of the eCommerce Freedom Podcast. Today I have a very exciting guest by the name of Tyler Donahue, and he's done some really exciting things in the world of eCommerce and also with his agency.
So I wanted to have Tyler on today really just to explore his story, his background, give you yet another example of what happens when you have somebody who really commits themselves to building a business, really wants to work for themselves, and get started on Amazon, and actually makes it happen.
It's not just me who does this or some of the clients you've seen. Tons of people are making this happen right now and I think every story you hear will make you more and more inspired.
So, Tyler, thanks so much for joining me today. How are things with you, man?
Tyler:
Very kind intro, Oliver. Thank you so much. Things are very good over here. Very good.
Ollie:
Awesome. You're very welcome, man. So we just had a brief chat about your background, but I'd love to start off really by talking about what happened before eCommerce for you and why did you decide to build an eCommerce business rather than going into like a different industry?
Tyler:
I suppose my answer probably, like a lot of people's, I wanted to be able to have freedom of location. And I suppose that it didn't have to be commerce, but before eCommerce, I was a real estate agent and it was very… I was in the real estate industry, it was very focused, it had to be in one location, right? Meeting with clients, meeting the sellers.
I didn't have a big enough business to the point where I could leave and explore my interests, travel, be a little more creative. And like many of you, probably, seeing tons of ads on people, hey, start with Shopify.. say, hey, be free with Amazon FBA, all that jazz sounded pretty great to me. So I made the dive, and that happened to work out okay.
Ollie:
Wow. Absolutely, man. Yeah, definitely, definitely okay. More than, okay, right? So, you mentioned to me your product that you started with, which is really built into the brand that you're launching. Talk to me about how you found the product, why you chose that product, and the story behind that.
Tyler:
Yeah. So when I first started thinking about selling things online, I wanted to provide a product that brought joy and comfort to the people on the other end, people buying this product.
And so when I originally started thinking about launching the store, I wanted to launch a store that focused on anti-anxiety, anti-stress - things of that nature. So I started looking at products in that space, maybe reinventing the stress ball.
But ultimately, we came to the decision that we were going to launch a weighted blanket brand. And there's a lot of competition in the space when doing the keyword research for Amazon. So we started looking at descriptors, people that were looking for weighted blankets with like a specific niche.
So cooling weighted blankets, 25-pound weighted blankets, seven-pound weighted blankets, and all these key words that narrowed down what people were looking for on Amazon so that we could compete, instead of trying to compete with broad keywords like just weighted blanket.
And so we stumbled across one that we thought was interesting - that there were a lot of people searching for 'lavender weighted blankets'. But there weren't any scented blankets when you typed in that keyword lavender weighted blanket - just the color.
So we launched a lavender weighted blanket with literally dried lavender buds inside the blanket, 150 grams. And within a couple of weeks of us launching, we were Amazon's choice for the keywords 'lavender weighted blanket' because we were the only one that fit that description specifically.
And I guess Amazon recognized that. And we were able to start selling pretty quickly, ranking pretty high on all of the keywords related to lavender weighted blankets.
Ollie:
That's awesome man. So weighted blankets. What is the purpose of a weighted blanket? I understand, is it just to provide comfort? So if you're lying down it just feels heavy. It feels like it's kinda hugging you. That's my impression. Is that what it is?
Tyler:
Yeah, yes, that's pretty much it. Before they became popular, they were used a lot in hospitals. Comforted you after a surgery… a variety of reasons. And they were actually popularized by gravity weighted blankets, which is a really big brand now.
And they realized that there is some science behind having weight on your chest as you're laying down - they call it the pressure touch. Kind of a hug, it's often described, and it's proven to release endorphins with this weight on you. So it helps you sleep, helps you to relax and yeah, they're really nice. Check one out.
Ollie:
Yeah, that sounds great, man. I'm always looking for ways reduce stress, I think, as you know, running a business can sometimes just be crazy. So yeah, it's certainly something I'd be interested in.
Alright, man. I really like what you were talking about with the keywords because you know on Amazon, what we're always looking for is an opportunity where there's a ton of demand, but obviously we have a way of competing.
So you obviously found this kind of niche inside of a niche, where it wasn't just a weighted blanket on you know, the main keyword, but it was a lavender weighted blanket. And so you were the only ones who actually had lavender in it rather than just being the color lavender. How has that played out? Has anybody else come along with a competing lavender weighted blanket?
Tyler:
Not yet. Not yet.
Ollie:
That's nice. Well hopefully… I mean, the aim is obviously to establish yourself as the brand, right, who has lavender.
Tyler:
Yes, exactly. So when the competitors come in...
Ollie:
They'll be knock-offs. Cool. All right, man. So let's talk about how you launched this product then. When you first got some stock and you looked for a supplier and everything, did you have like a rough budget in the beginning that you started off with?
Tyler:
Yeah, we had a credit card for $7,500. Our first inventory buy was about 5,000.
Ollie:
And was that all sourced from Alibaba? China?
Tyler:
Yep. We just contacted a manufacturer who was already making them and asked if they could put lavender inside of it.
Ollie:
Love it. So how many units did you ship over in your first order?
Tyler:
A hundred.
Ollie:
Okay, so you started relatively small. And so it was a total 5k for that shipment. Is that right?
Tyler:
A little less, actually. We pay with shipping $32 per unit. So, yeah, just over 3,000 actually, now that I think about it.
Ollie:
Oh, right. And so what was the sale price? Is $32 the cost of landed goods? Does that include shipping and stuff or is that just the product?
Tyler:
That was landed.
Ollie:
Oh wow. Okay. And so what was the sale price?
Tyler:
Well, when we started, we sold the blanket for $89 on Amazon.
Ollie:
Nice. Slightly more expensive than your average private label where people are charging like $20 and stuff. That's nice. So you get quite a decent profit per sale, right?
Tyler:
Not bad. Yeah. A little harder 'cause the product is more expensive. So..
Ollie:
So re-stocking costs..
Tyler:
We're buying lots of inventory. Exactly.
Ollie:
That's great. And do you ship by sea now? Do you just get huge shipments sent over?
Tyler:
Yeah. By sea. Speaking of shipments, just a tip that I think everyone should know when deciding shipping anything from China. Get a freight forwarder that you can call and speak to you directly, don't use the freight forwarder that your manufacturer uses. I suggest Flexport.
It's extremely helpful to have 100% visibility on where your units are from the point they leave the port in China to arrival port in the States or UK or wherever you are, and ultimately to your warehouse.
It means a ton in the beginning so that you can accurately decide when you're selling, when you're launching your ads, and all that jazz. You want to be able to talk to your freight forwarder. Save you a lot of pain.
Ollie:
That's such a valuable tip. There's so many touch points, aren't there, between getting the product from China and the factory, you know, through Chinese customs, on the plane or the boat, on your country, through customs.
So many points where something can go wrong and having that transparency.. It's just so… transparency, transparency, I guess is the real word, right? Yeah. It's so important. That's a really awesome tip. Cool, man.
So you got this three grand worth of stock and how quick did it start selling? Did you.. was there a delay? Did you turn on the PPC and have to wait for a month or, you know, what happened?
Tyler:
So we reached out to our friends and family in the beginning. We gave them the blanket for the cost that we were paying. So for $32 in exchange for review. And on Amazon, in order to do that, they have to buy on their accounts so we just had them buy it and then we'd pay them the difference on PayPal or whatever payment system you use, so that we could get a large influx of reviews right as we launched.
So we made all of our friends and family aware that we ran this program weeks before we launched the product. So that day one we were able to get lots of reviews coming in.
Ollie:
Nice. And so then did you turn on the advertising and stuff after that?
Tyler:
Yeah. Not a ton though. We still don't advertise a lot. We found that the key.. I mean, to be honest, we're still not great with our Amazon keyword bids and advertising. We're relying a lot on organic search results.
Ollie:
It's free traffic. And it's funny. It's just so true. You don't have to be like a ninja with all this stuff. If you have a product that people love, if you have a great product, I mean that's what we're doing here. We're not trying to become SEO ninjas, we're trying to sell products that add value. And you obviously did that and that's what carries your company.
So shortly after you were selling this product on Amazon, you decided to expand, right, and switch over to other platforms as well. So I'm curious, what revenue number did you get to when you decided, okay, now it's time to start to expand.
Tyler:
We were about 6,000 dollars a month.. Six, seven thousand dollars a month on Amazon, little ad spend before we switched over. Or not switched over, but added Shopify as a channel for us.
Ollie:
That's awesome. So six grand a month and you're like, right, we can expand this. So what was the reason you thought, well, I want to go to Shopify as well.
Tyler:
Yeah. I mean, a larger reason was us wanting to be able to speak directly with our customers and kind of own the emails and the data so that we can build a brand around the blankets rather than just be on Amazon.
I mean, for Amazon sellers, people currently selling, you know that you don't have access to your seller data or to your customer's data. So when we launched on Shopify, the goal was to understand a bit more who our customer was so that we could build a brand and launch new products, speak to our customers as we're launching new products, rather than just go solely on what people are searching for on Amazon.
Ollie:
Yeah. That makes so much sense. You can start to build up an email list. You can keep in touch with them. You can offer them complimentary products..
Tyler:
Ask them what they want..
Ollie:
Yeah. That's really one of the most important parts of the business. When you're only selling what Amazon, they very much don't want you to do that. So it was very clever that you did that so early. Our stuff have done so much on Amazon and haven't really expanded too much to other platforms. So it was really, really good that you did that early.
So obviously, if you're selling on Shopify, Shopify don't have their own fulfillment service. So how are you fulfilling orders when you manage to…
Tyler:
Amazon.
Ollie:
Love it.
Tyler:
Yeah, Amazon has something called Amazon Multichannel Fulfillment. So if you're selling on Amazon already and want to quickly sell on Shopify, then just Google 'Amazon Multichannel Fulfillment' and you can fulfill all of your Shopify orders via Amazon and get really quick shipping. You know, three to four-day shipping.
Ollie:
This is so nice 'cause when you ship stuff from China, you can send it all to the same place or you can send all your stuff into FBA. Have it shipped to all these channels. So it's almost like you're just clicking a few buttons really to get the Shopify set up rather than having to have a whole new warehouse and everything else.
But then soon after, you switched. Right?
Tyler:
We did make a switch and we were actually forced to switch because a lot of the sellers right now know that Amazon stopped taking warehouse receiving orders, shipping orders for non-essential goods for, I don't know, maybe 45 days.
So we weren't actually able to send the new units to Amazon. So we made a quick pivot and sent them to another 3PL called ShipBob. 3PL stands for third party logistics.
Ollie:
So ShipBob, they're exciting. I discovered them recently. I saw that one of the… I'm always on the eye out for trending keywords and ShipBob was a trending keyword. So it's basically just like FBA, but not on Amazon. They do everything, but it's just not on the Amazon's brand.
Tyler:
Exactly. It's exactly like FBA, but they don't have a marketplace, so they just do shipping and logistics.
Ollie:
So cool. You know, it's nice to know that there's another option if FBA for some reason doesn't work out because you know, obviously, selling on Amazon, it does have its downsides.
I mean, if Amazon decides to suspend you and your whole business is gone, right, so it's nice that there's another way. You can just continue operating even if you don't have the account. So yeah, ShipBob and companies like that are really encouraging.
So you sold this product and then what revenues is this doing now, this banket?
Tyler:
It hovers between about 20 and 30,000. Twenty and $30,000 a month in sales.
Ollie:
That's amazing. So we're talking like a decent six figure business with one product, which is really exciting. And that shows you as well the size of the US market because a lot of my stuff's done in the UK and I would never expect to have that kind of volume. I have half of that volume on some of my best products in the UK. So yeah, it really does show the size of the market in the US.
Tyler:
Sounds like you should start listing some of your products in the US.
Ollie:
Yeah, yeah. You're absolutely right.
Tyler:
It's cheaper to ship from China to the US because of the taxes.
Ollie:
Is it really? See, I didn't know that. That's amazing. I've been looking into it for a while. It's been on my to-do list, but I just haven't pulled the trigger. I'm probably throwing money down the drain.
But, so, shortly after you grew this company obviously with Shopify, you have to handle your customer service. So tell me what happened with that.
Tyler:
Yeah, we didn't like handling our customer service. Well one because it was just me, so I was just sitting here responding to emails. And then they were coming in. Customers are a lot to deal with and once you start telling a little bit of volume, it can take up a lot of your day just sitting there and responding to customers.
And customers are trained to get responses really, really fast now, with all these big brands that have a lot of money to invest on customer service. Amazon, they're expecting responses really fast and they get really angry if you don't respond fast and give them what they want.
Nowadays they can go on your socials and start making comments on your posts, telling people not to buy from you because they don't respond to your messages. So it's a really big growing pain that we were experiencing and we noticed a lot of other people were experiencing.
So we launched a managed service agency that help people outsource their customer service and we only charge per ticket solved. So it's very scalable for people that are looking for different customer service options.
Ollie:
That's such an amazing idea 'cause I've had parts of my eCommerce businesses where I had to handle the customer service. I had a big eBay business at one point, wasn't too big. I think I did about 50k on eBay or something, but it seemed big to me in the beginning.
And you have to do all the customer service and the amount of crazies you get... Just people who are just plain crazy.. Dealing with that on a day-to-day basis, you know, it can be really exhausting and you need like a weighted blanket.
Tyler:
We were joking about starting Instagram, like a meme Instagram where we just show stuff that people say in customer service and how they can go from extremely heated - like they're reporting you to the bank, you're the worst person ever, you're stealing from people, you should be ashamed of yourself, to, like, oh my gosh, thank you so much, I know I got angry, I just really, really wanted the product, you're amazing. And they write you an amazing review.
Ollie:
It's crazy. It's funny.
Tyler:
So we were thinking about starting a meme page where we had people, their first email, their last email be different in terms of their tone.
Ollie:
That was brilliant, man. I'd love to see that. Cool.
So you started this agency basically born out of a need that you had in your own company and now so you help other companies with their customer service.
So how is it structured? Like how, let's say, I mean, to be honest, I do have a ton of tickets coming through my coaching business. I have about, I don't know, 30, maybe 40 a day. Let's say I wanted to use your guys. How would you handle it?
Tyler:
Yeah. So we charge $2 per ticket. When you say ticket, it's like a full exchange. So if someone reaches out to you about a program and we respond and they respond back and then we respond back again, we charge $2 for a full ticket exchange to close out that inquiry.
Ollie:
That's a great pricing model. 'Cause I mean, sometimes you might be tempted to hire somebody like on payroll to do customer service. The thing with customer service is, it varies, man. At some weeks you'll have an explosion of tickets and other weeks there'll be nothing.
So if you have someone on payroll, it's like, well sometimes they're just going to be doing nothing for like an entire week. So the pay per ticket model that's a really good idea.
You mentioned that you've worked with quite a few big YouTube channels. So tell me what happened with that.
Tyler:
Yeah. When we first started this, our first client was a YouTube group called Yes Theory and they have a lifestyle brand called Seek Discomfort and we handle their customer service and that's kinda what kick-started our business - finding one YouTube group with an audience and kind of making that our niche. So most of our clients are merchandise brands from influencers.
Ollie:
That's so cool. And so funny 'cause I've seen Yes Theory's videos. They're the ones who just, like, throw a pin on a map and then just go to the country, right? That kind of thing?
Tyler:
Yeah, yeah. The slogan is their merchandise or lifestyle brand, Seek Discomfort. So there are channels all about pushing people outside of their comfort zone and then like, you know, illustrating that on their channel, getting outside their own comfort zones. They're an incredible group. If you haven't seen them, check them out.
Ollie:
Yeah. If you're listening, go to YouTube, type Yes Theory. Go check them out. It's definitely entertaining. So, awesome. You've been doing a lot of stuff for their merch sales and their clothing sales. So what are the plans? Do you have any plans for the agency, do you plan to grow it in some way or work different clients?
Tyler:
Yeah. This year we're really focusing on the agency. We kind of figured all the systems over the past years since we launched it and we're really excited to kind of step on the gas and see how big we can grow it. I'm mostly focusing again on influencers that have merch brands.
Ollie:
Love it. Awesome. All right, Tyler, well it's been so cool, hearing your story has been really, really inspirational. Love hearing about your agency work as well, which is a really exciting model and quite a fresh take on customer service agency.
So if somebody is thinking, you know, I want to get in touch with Tyler, maybe I want to use his services or ask him a question or something, where can we find you?
Tyler:
Yeah. Instagram. I'm just Tyler's Journals, so @tylersjournals and then my email is just tyler@tylerjdonahue.com. Love to connect with you guys.
Ollie:
Awesome. So what I'll do guys is I'll put some links in the show notes as well. So if you just go to ecommercefreedom.com find Tyler's episode and yeah, you'll see the links on there and you can check out his stuff as well.
Tyler, it's been absolute pleasure. Thanks so much for coming on the show.
Tyler:
Yeah. Nice to meet you. Talk to you soon. Take care, mate.